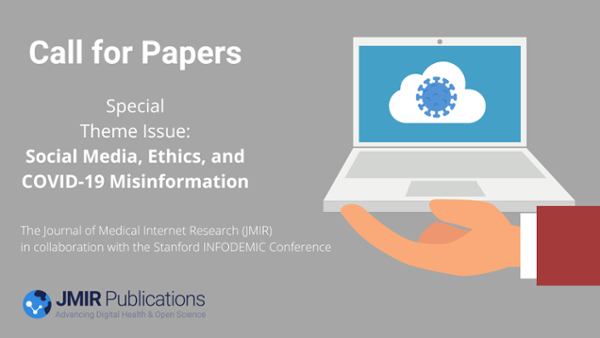 The Journal of Medical Internet Research welcomes submissions to a special theme issue examining the intersection of social media, ethics, and COVID-19 misinformation.
This call for papers is released ahead of the virtual consensus conference, "INFODEMIC: A Stanford Conference on Social Media and COVID-19 Misinformation", scheduled for August 26, 2021. Participants and attendees are encouraged to submit research papers relevant to the conference proceedings. This call for papers is open to the public, including authors not affiliated with the meeting.
Purpose and Scope:
Control of the SARS-CoV-2 global pandemic is dependent upon the widespread distribution and public acceptance of the COVID-19 vaccine. Uncertainty about vaccine safety and efficacy threatens public health efforts. This hesitancy is distinct from historical antivaccine rhetoric and fueled by misinformation and disinformation.
We are experiencing an infodemic in which misleading or inaccurate COVID-19 information is promulgated online. Social media algorithms especially reinforce misinformation among individuals who share political, cultural, or religious views about the pandemic. However, social media platforms may be strategically leveraged instead as tools to educate the public and reduce vaccine hesitancy.
We do not yet know the degree to which social media companies and physician influencers may best impact COVID-19 prevention. Identifiable best practices may yield positive health outcomes such as widespread vaccination, though it is unclear if such outcomes would compel social media stakeholders to take action. Moreover, what is the ethical mandate of technology companies to intervene during an unprecedented public health crisis?
We seek research papers that address one or more of the following priorities:
1. Ethical implications of the COVID-19 infodemic
2. Use of social media to combat health disinformation
3. Effective deterrents to online misinformation
4. Coordinated public health interventions by internet companies
5. Impact of online physician influencers during COVID-19
6. Social media and COVID-19 health equity
7. Infodemiology and COVID-19
8. Stanford INFODEMIC conference proceedings
Key Dates: (All deadlines are 11:59pm EST)
Stanford INFODEMIC Conference: August 26, 2021
Submission Deadline: April 15, 2022
Special Issue Publication Begins: August 1, 2022
Submission Guidelines:
You are invited to submit your manuscript of no more than 4500 words.
Submitted papers should report new and original results that are unpublished elsewhere. Rigorously designed review articles and INFODEMIC conference proceedings are acceptable. Prepare your manuscript according to the guidelines found here.
To submit an article to this JMIR theme issue, please go to https://www.jmir.org and select the journal section entitled "JMIR Theme Issue: Social Media, Ethics, and COVID-19 Misinformation".
All submitted manuscripts will undergo a full peer review process consistent with the standard editorial criteria of JMIR. Accepted papers will be published in the Journal of Medical Internet Research, or may be transferred to JMIR Public Health and Surveillance, JMIR Infodemiology, or another JMIR sister journal, according to the focus and impact of the paper. All papers will appear together in an e-collection (theme issue) guest edited by the academics listed below. Papers rejected for the theme issue may still be considered for regular issues.
For this theme issue, article processing fees are discounted by 20% (APF for JMIR will be US $2360.00 USD. This is a discount of $590.)
GUEST EDITORS:
Michael A Gisondi, MD is Associate Professor and Vice Chair of Education in the Department of Emergency Medicine at Stanford University. He is the Principal of The Precision Education and Assessment Research Lab at Stanford and an expert in the use of social media in medical education. Twitter handle: @MikeGisondi.
Matthew Strehlow, MD is Associate Professor and Vice Chair of Strategy in the Department of Emergency Medicine at Stanford University. He is the Director of Stanford Emergency Medicine International.
Ali S. Raja, MD, MBA, MPH, FACHE is the Executive Vice Chair of the Department of Emergency Medicine at Massachusetts General Hospital and a Professor at Harvard Medical School. He is the co-founder of #GetUsPPE. Twitter handle: @AliRaja_MD.
Jeremy Faust, MD, is an emergency physician at Brigham and Women's Hospital and an instructor at Harvard Medical School. He is the co-founder of @brief_19. Twitter handle: @jeremyfaust.
Michael Gottlieb, MD, is Associate Professor and Ultrasound Division Director in the Department of Emergency Medicine at Rush University Medical School. He is the Chief Academic Officer of the ALiEM Faculty Incubator and the Social Media Editor for Academic Emergency Medicine. Twitter handle: @MGottliebMD.
Lauren Westafer, DO is Assistant Professor, Department of Emergency Medicine and Institute for Healthcare Delivery and Population Science, University of Massachusetts Medical School - Baystate.